Introduction
The AWS Summit is the flagship UK annual event to showcase Amazon Web Services, with talks, product announcements and product insights. This year's event (that took place on 8th May 2019) was certainly well attended with over 12,000 people packing out the Excel Arena.
Priocept were in attendance to hear how some of the leading companies in the UK are using AWS and to get the latest inside information on the new cloud infrastructure services and offerings from AWS.
What's New?
The big themes of the day revolved around AI and Machine Learning. In his Keynote speech, Matt Garmin (VP of AWS Compute) claimed that "more machine learning is happening on AWS than anywhere else" and then outlined their intent to expand further into this sector. Matt described the progress they have made so far, and then announced a range of new products in areas such as translation and transcribing, as well as an expansion to AWS Sagemaker, their "fully managed" machine learning service.
AWS also announced AWS Get IT as an initiative to get more Year 8 students (12-13 year olds) in the UK into cloud computing and improve their digital skills, with an aim to inspire more girls to consider a career in technology.
Our Favourite Insights
The Guardian's journey to AWS cloud infrastructure by Philip McMahon
The Guardian has moved from an in-house MongoDB database to an AWS DynamoDB database hosted entirely on AWS. The Guardian is an interesting case study as they have unique requirements as a result of being one of the leading media organisations in the world.
They aim for 100% uptime and availability for their content management application that is to add news stories, so that in times of high traffic or crisis, journalists can always post stories immediately. They also need to need to ensure the systems they use are as secure as possible with encryption both at rest and in transit, to ensure their data is reliable and trusted.
This DynamoDB setup gives the Guardian a rapid response by placing their stories into a non-relational database using a simple JSON structure. The Guardian then broke down the cost saving they achieved by going from MongoDB to DynamoDB, with a separate RDS database and Elastic Search for picture searching for journalists, and revealed that their IT infrastructure costs are now less than a third of what they were previously, as well as having gained the simplification benefits of having only one infrastructure supplier.
Philip mentioned they are excited to increase their use of other AWS tools such as IAM (Identity and Access Management) which they are starting to use in a more sophisticated manner, and which has given them access to a lot of extra authentication features for very little set-up work. They also plan to look at expanding into more AWS regions as they become more global and look to ensure their services are protected against regional issues which could cause disruptions to their services for both journalists and end users, and they think the AWS global infrastructure is well placed to help them to achieve this.
Building enterprise solutions with blockchain and ledger technology by Dr Andrew Kane (AWS)
Within the last year AWS have announced Quantum Ledger and Amazon Managed Blockchain, which are two attempts to make use of trendy blockchain technology, especially the key feature of an immutable ledger.
It seems initially counter-intuitive for a blockchain to be hosted by a single company, and AWS were clear in attempting to explain the role that they see their blockchain products playing in the market. They believe the AWS Blockchain role is that of a trusted third party designed to address the limitations of a traditional ledger style database which they outlined as follows:
Expense – Corporate level ledger style database can be complex and expensive to build and maintain.
Immutability – the difficulty in ensuring previous data hasn't been changed by a systems engineer or the company that owns it.
Verification – they're owned by a person or company who has control and access of the history.
These are the issues AWS Blockchain tools are trying to address, and AWS believe they are able to overcome them with just a few clicks from the console, that allows the user to get set up and running their own blockchain which they can then invite other people to be part of.
This setup then gives users equal ownership of the blockchain, rather than given sole ownership to the user that created the blockchain initially, meaning that even if the initial creator was to delete their account the blockchain could keep on functioning without any interruption or issues. Each of these users run nodes and all the nodes have to accept a request, which goes through a central service, which is then saved over all nodes if it is accepted, and then creates an indisputable ledger.
Andrew then ran through some of the technical setup and how currently the main system uses Hyperledger Fabric which is a leading blockchain system, and AWS are soon to incorporate Ethereum, which is the second largest cryptocurrency and the leading method for implementing so called "smart contracts". The nodes run in Docker containers to provide a consistent and quick set-up, and ensure all nodes in the chain are the same. Each node can submit a new request to a central service, which each node then has to accept in order to add the transaction to the ledger. Other AWS tools can be used to build on top of this for doing things such as querying the data or providing the data within another web service.
Characteristics of Modern Apps by Bastian Leblanc (AWS)
Bastian from AWS ran through some of the impressive names that use AWS services such as Amazon, Samsung and Snapchat, and talked through some of the considerations that these companies have when engineering a service that works effectively on a global scale.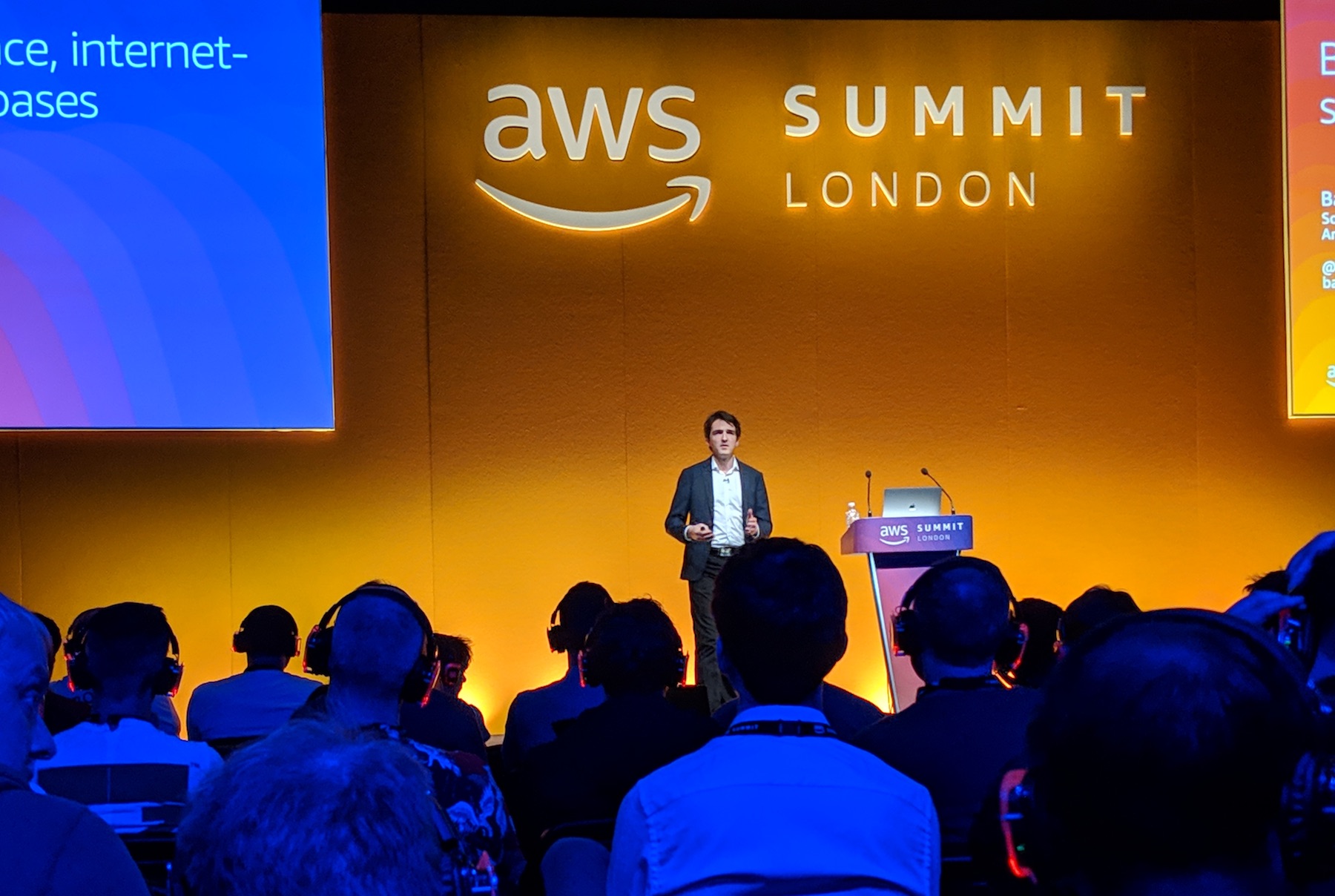 Amazon and Snapchat use the DynamoDB product which is a non-relational database that enables large scale data storage as required by businesses that work on a global scale. Bastian then talked through the common requirements that these companies have and explained that the first consideration is always to reduce the latency to the end user, and the way they achieve this is typically by using a CDN (Content Delivery Network) in front of the compute and data layers. This compartmentalisation of the different layers allows for a resilient service all over the world, though it is critical to have a proper setup consisting of the following:
Caching data as close as possible to your user
Separate concerns through the use of CloudFront origins
Decoupling – allowing components to be swapped out should any fail
Purpose built database – such as RDS or Neptune for improved performance.
Geoff Hurst (BP) on BP's Journey to Using AWS for SAP
Geoff Hurst discussed BP's journey to a cloud based AWS system for their business critical SAP software. They believe switching to AWS has given them many advantages such as:
Simplification – whereas BP previously had eight suppliers to deal with for their IT infrastructure, now they have cut that down to two.
Speed – the rapid way that BP could spin up new server environments ready to test and build applications, and do the whole thing in AWS avoided the issues of having different companies and departments talking between each other, reducing project development life-cycles from months to weeks.
Scaling – the ability to scale up and down with ease is very useful, especially during migration, as it means that BP can leverage up their infrastructure to cope with resource intensive requirements during a migration process.
OS patching and updating – BP can have preconfigured dormant servers available, which can be used immediately as they are preconfigured whilst others get updated, leading to quick and pain free updates.
Geoff pointed out a key consideration was to have a clear method for cost governance and ensure you are clear who is responsible for a given set of AWS costs, and that it is important to have clear policies regarding responsibilities for remembering to scale down resources after use.
Our Takeaways
It was impressive to see the sheer volume of people packing out the Excel arena for the event which shows the growing popularity that AWS has and this high level of adoption has clearly enabled Amazon to build cloud infrastructure services to a massive global scale which enables many of the main advantages that were presented such as scaling on demand, resources on demand, and the large range of products available.
The main AWS competitors such as Google Cloud Platform and Microsoft Azure now have a similar range of services and Amazon is having to work hard to maintain its leadership position in the market.