Background
TUI Travel is the world's leading leisure travel company, serving more than 30 million customers in over 180 countries. Its 200+ brands generated over £13bn in revenue during 2010, and TUI Travel is the only travel leisure company listed on the FTSE 100 index.
TUI operates brands such as Thomson, LateRooms, FirstChoice, Marmara, Hotelopia, Arke and Mostravel, and owns hotels, resorts and a large fleet of aircraft.
The Business Problem – Reduce Duplication and Content Costs
Many specialist content providers – such as LonelyPlanet, GIATA, and Weather Underground – supply content and media to the travel industry, due to the need to maintain fresh and up-to-date media as hotels change hands, or are redecorated, or new attractions or resorts become available.
Following a period of expansion and acquisitions, TUI found that many of its websites were sourcing the same content (such as images of hotels or destinations, videos, geo-data and weather data) from the same suppliers, each website paying not only for licenses to use the content but also for the integration effort between their systems and the content sources.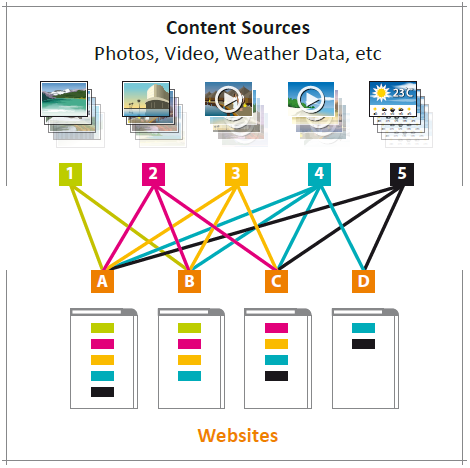 Each website or market thus incurred complexity, cost and effort in order to integrate with content sources, store the content (often many Terabytes in size), and operate the corresponding systems. Each website was effectively "re-inventing the wheel", solving problems which other TUI group businesses had already solved.
What was required?
TUI Travel needed to be able to arrange group content deals with content providers in order to reduce content licensing costs, and therefore needed a central repository in which to manage and store the shared digital assets. TUI also needed to reduce time-to-market for new web-based products and services, and to avoid repeated system integration activities between content systems, whilst taking advantage of shared business data.
How did we build the system?
It became obvious early on in the project that the solution to TUI's business problem could not be met with off-the-shelf software. For instance, a Web Content Management system would not be suitable due to the need to be presentation-independent. A Digital Asset Management (DAM) package would not provide the required integration with business data, nor the content packaging required. An ecommerce-type Product Information Management (PIM) solution would emphasise too strongly a product-based approach, where a focus on content and entities was required. Other technologies, such as the SharePoint Business Data Catalogue (BDC) were too specialised.
The solution
TUI Travel approached Priocept in 2008 for help with designing and building a technology system, the TUI Content Platform, to meet their needs. In consultation with the E-Commerce Architecture team at TUI, Priocept designed a system which provided:
A services-based content "hub"
High-performance, scalable architecture for content distribution
Master Data (MDM) integration
Intelligent caching and statistics
Advanced access control and security
Multi-lingual, multi-media integration interface (API)
Content manipulation and packaging
The system was to act somewhat like a "digital concierge" – providing information and data in the user's preferred language, rapidly and efficiently.