- Dan Norris-Jones and Priocept to compete at Dubai 24 Hours 2013
After a successful test with De Lorenzi Racing in Italy, Dan Norris-Jones has been confirmed to race in the 8th running of the Dubai 24 Hours, 11-12th January 2013.  Dan will be racing the De Lorenzi Mercedes SLS AMG GT3 sponsored by Priocept, with team mates Gianluca De Lorenzi, Olivier Baharian and Dario Paletto.
The Dubai 24 Hours attracts professional race teams from GT and endurance racing around the globe and for 2013 is expected to have more than 80 cars on the starting grid which will include Ferrari 458, Lamborghini Gallardo, Audi R8 LMS, Mercedes SLS AMG, BMW Z4 GT3, Aston Martin Vantage GT3, Porsche 997 GT3R and McLaren MP4-12C GT3's.
After a initial test in the Mercedes SLS GT3 in Italy, I'm looking forward to getting to Dubai and fighting for a strong result in the 24 Hours. The race will be run in hot conditions with two hour stints per driver and we will be competing against some world class teams and well known professional drivers so I expect the race to be very demanding both physically and in terms of the competition, but we expect to be right up there. It will be my first time driving at Dubai but I have been able to prepare in the simulator at Silverstone so will have done lots of virtual laps of the circuit by the time I get out in the SLS GT3 for real again.
See 24hdubai.com for full information and updates on the race.  The race will also be covered live on television on Motors TV on Sky.  Alternatively, following @prioceptracing on Twitter.
Mercedes SLS AMG GT3
The Mercedes SLS AMG GT3 is the competition version of the Mercedes AMG SLS road car, and is FIA homologated for competition in the GT3 class, with a 6.3 litre V8 (550bhp) front mounted engine, sequential gearbox, aerodynamics package and variable traction control and ABS.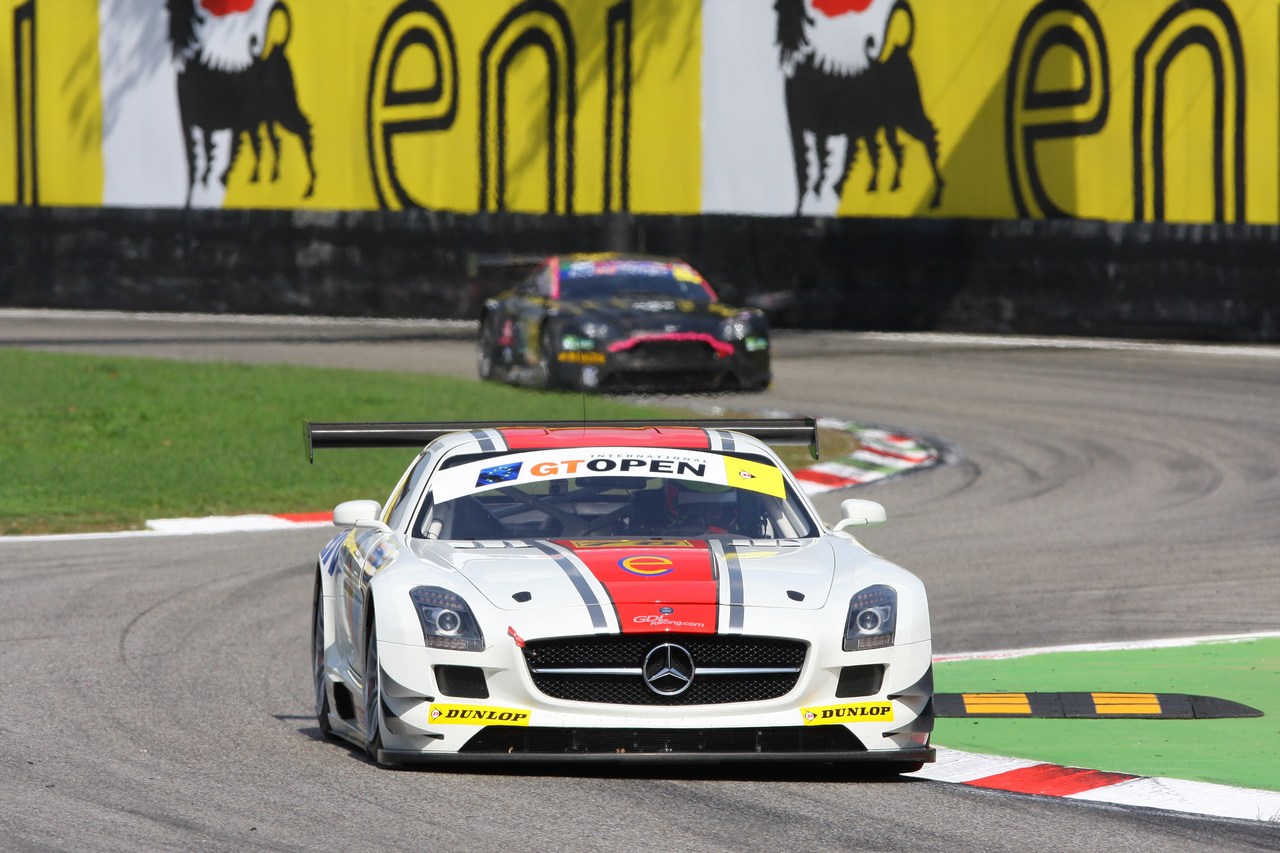 For more information see this Mercedes-Benz USA film featuring the SLS GT3.
At the 2012 Dubai 24 Hours, the SLS GT3 secured not only the outright race win, but all three podium positions, and is expected to be fully competitive again in 2013.
De Lorenzi Press Release
The original De Lorenzi / GDL Racing press release follows:
GDL RACING TO LINE UP MERCEDES SLS IN NEXT DUBAI 24 HOURS
FOR THE FIFTH YEAR IN A ROW THE RAVENNA-BASED TEAM WILL TAKE PART IN THE ARAB EMIRATES RACE: DE LORENZI, PALETTO, BAHARIAN AND NORRIS-JONES WILL SHARE THE WHEEL
Ravenna (I), December 10th 2012 – GDL Racing is to establish a new record, racing the Dubai 24 – scheduled for January 12-12 2013 – for the fifth year in a row
This time the Ravenna-based team will take a new approach, lining-up a Mercedes SLS GT3 instead of the Porsche 997 from previous years. After enjoying the Mercedes' debut during the 2012 season, GDL Racing prepares its campaign for the United Arab Emirates race, in which it seized an 11th place this year as the best Italian team and a class victory in 2011 with one car, after the other fought for the overall 1st place and was leading for 7 hours before the retirement due to a crash. Gianluca De Lorenzi, Dario Paletto, Frenchman Olivier Baharian and British driver Dan Norris-Jones will share the wheel in the next edition of the race that will be held in January 2013, and will be trying to secure another important result.
LA GDL RACING ALLA 24 ORE DI DUBAI 2013 CON UNA MERCEDES SLS
PER IL QUINTO ANNO CONSECUTIVO IL TEAM RAVENNATE SARÀ AL VIA DELLA "LONG-ENDURANCE" DEGLI EMIRATI ARABI: AL VOLANTE DE LORENZI, PALETTO, BAHARIAN E NORRIS-JONES
Ravenna (I), 10 dicembre 2012 – Praticamente un record di presenze, quello che la GDL Racing si appresta a raggiungere: per il quinto anno consecutivo il team ravennate parteciperà infatti alla prestigiosa 24 Ore di Dubai la cui prossima edizione si disputerà il 12 e 13 gennaio del 2013.
Ma ci sarà anche una novità, perché in questa occasione la squadra capitanata dal pilota e team manager Gianluca De Lorenzi si presenterà al via con l'inedita Mercedes Sls Gt3 (in luogo della "tradizionale" Porsche 997).
Dopo avere portato al debutto la vettura della Casa di Stoccarda nel corso della stagione 2012, la GDL Racing si prepara ad affrontare adesso una nuova avventura nella "classica" degli Emirati Arabi in cui quest'anno ha centrato l'11ª posizione assoluta confermandosi come il miglior team italiano, dopo avervi comunque conquistato la vittoria di classe nel 2011 con un equipaggio, dopo che l'altra vettura del team romagnolo aveva lottato a lungo per il primato assoluto, rimanendo al comando per sette ore di gara prima di un'uscita di pista.
Ad alternarsi al volante quest'anno ci saranno lo stesso Gianluca De Lorenzi e Dario Paletto (entrambi ormai esperti della 24 Ore di Dubai), oltre al francese Olivier Baharian e all'inglese Dan Norris-Jones. Motori accesi dunque tra un mese esatto, quando l'obiettivo sarà quello di portare a casa un altro risultato importante in quello che è divenuto ormai un appuntamento di grande interesse internazionale.