- Priocept sponsored Mercedes SLS AMG GT3 finishes 12th at Dubai 24 Hours
The Priocept sponsored Mercedes AMG SLS GT3, run by De Lorenzi Racing and driven by Priocept co-founder Dan Norris-Jones along with team mates Gianluca De Lorenzi, Dario Paletto and Oliver Baharian, today finished 12th overall in the 2013 Dubai 24 Hours.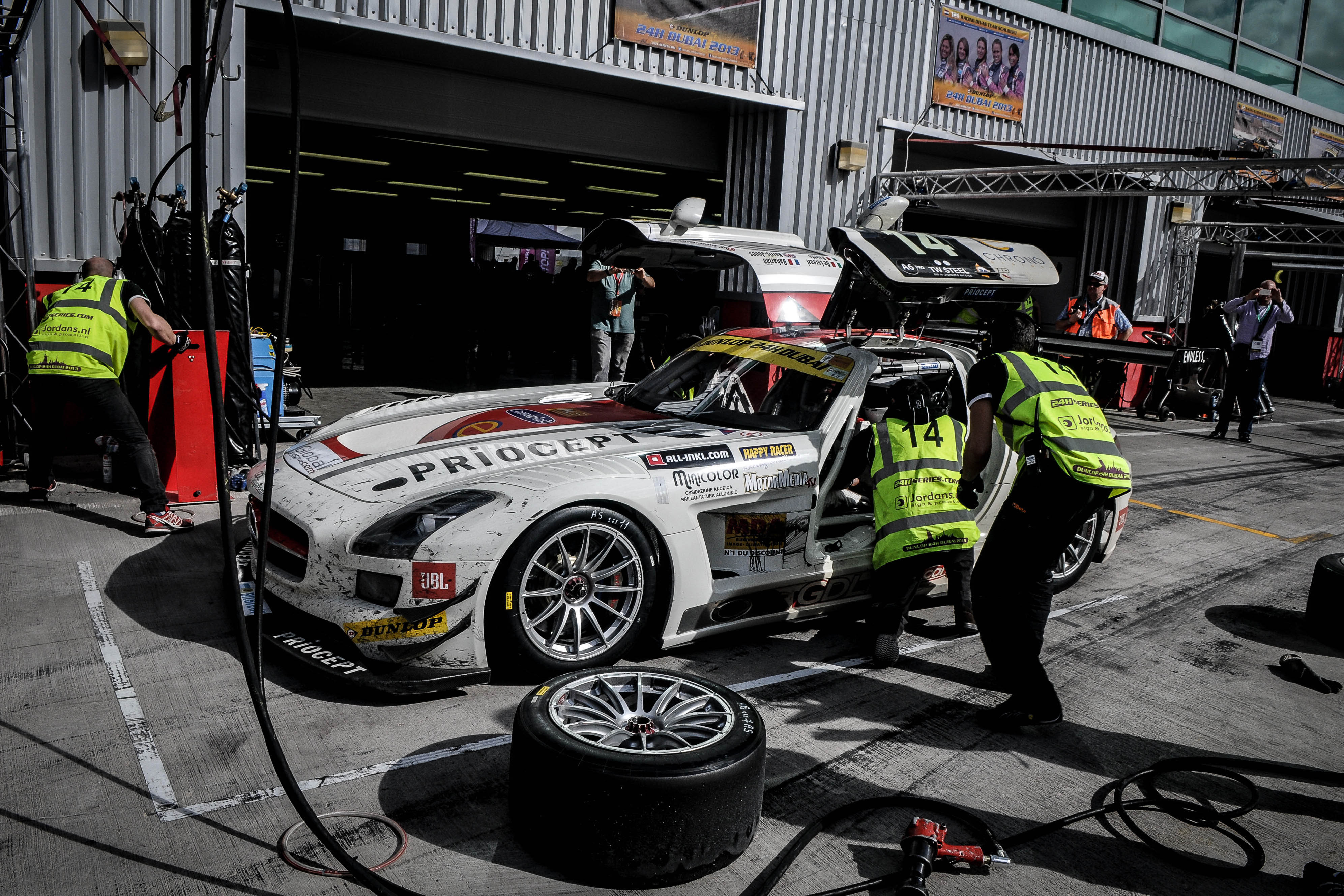 Competing against a grid of 80 cars, including factory supported GT3 entries from Ferrari, Mercedes, McLaren and Aston Martin, the Priocept sponsored SLS qualified 12th overall on the Thursday afternoon before the race with a best lap time of 2m02.225.  The team was pushing for a top ten result throughout the race but eventually finished 12th after losing time in the pits to a number of minor issues.  Just three hours into the race at the second pit stop, as Norris-Jones handed over to Baharian, a problem with the SLS's gullwing doors cost about 4 minutes in the pitlane, dropping the car from 12th to 24th.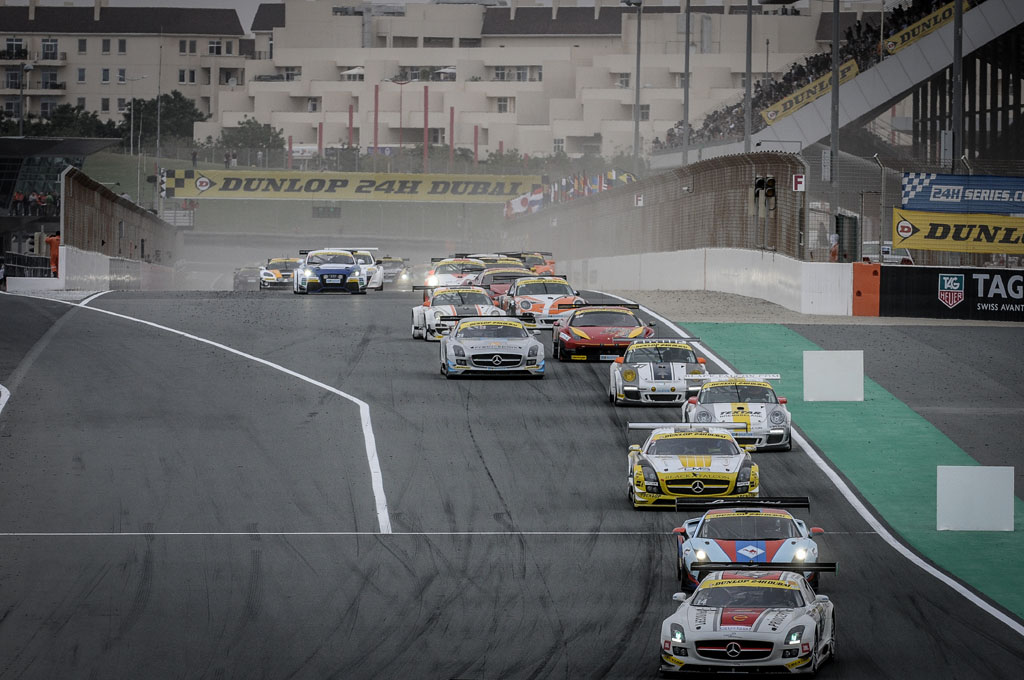 After fighting back to around 15th during the night after 10 hours of trouble free running, the car was then involved in an incident with the race leading AF Corse Ferrari 458 while being driven by Gianluca De Lorenzi.  This caused suspension damage and time was lost in the pit as a left rear toe link was replaced.  The car then commenced another fight back up through the field during the early hours of the morning, eventually finishing 12th at the 2pm finish on Saturday afternoon.
The car completed 562 laps during the 24 hours, a total distance of 3,209km over the 24 hour duration, at an average of 126.2kph (79mph) including pitstop time.
This was my first experience of the Dubai 24 Hours and was quite challenging. There was only very limited practice time, and I only had a total of 20 laps during practice and qualifying, including just 7 laps in night practice, to learn the circuit, before getting into the car in the middle of the race for the second stint.

But the pace was good and we should have comfortably finished in the top ten if not for a couple of minor mechanical problems, some stop-go penalties that should have been avoided, and I think also some errors with our fuel and driver change strategy which lost further time. The Mercedes SLS was incredibly fast, and safely passing slower traffic at very high closing speeds, while at the same time trying to limit the amount of lap time lost in traffic was very challenging.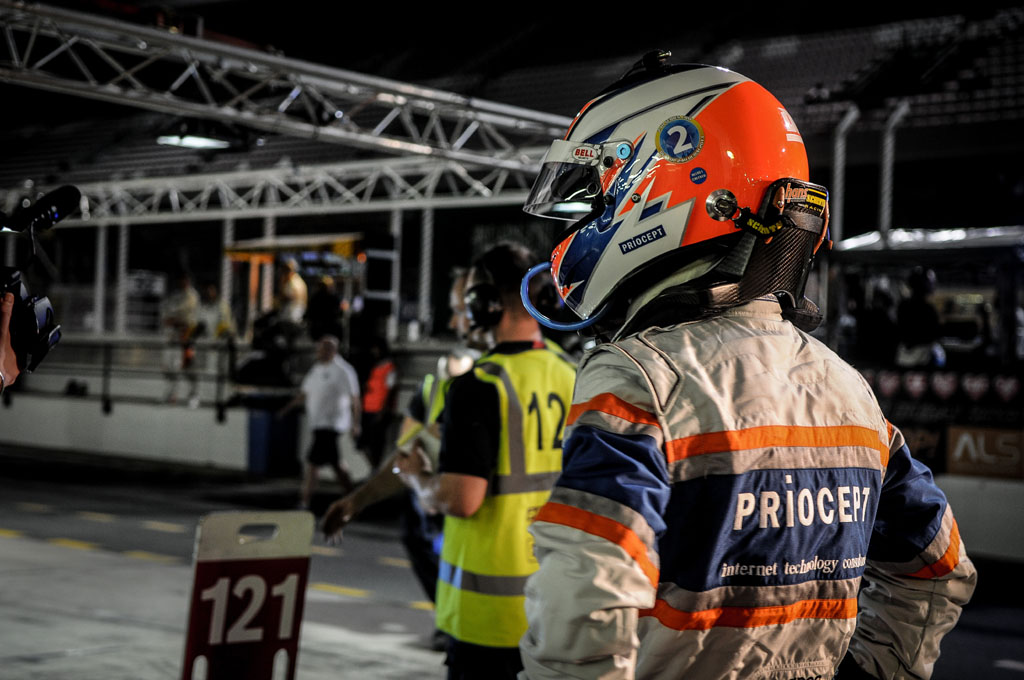 The race was eventually one by the Black Falcon's Mercedes SLS, with AF Corse (Ferrari 458) second and Craft Aston Martin Racing (Aston Martin Vantage) third.
De Lorenzi Press Release
 GDL RACING NEXT TO TOP TEN AT DUBAI 24H
DE LORENZI, PALETTO, BAHARIAN, NORRIS-­-JONES SEIZE 12. OVERALL PLACE WITH MERCEDES SLS
Dubai (EAU), January the 12th 2013 – After taking the class win in 2011, GDL Racing seized an other important result at Dubai 24H gaining the 12th overall place last Friday and Saturday. The Ravenna-based team, that was for the fifth year in a row at the start of the Emirates' race, closed next to the top-ten with a total of 80 cars and finished 7th in the A6 Pro class with a Mercedes SLS GT3 shared by driver-team manager Gianluca De Lorenzi, the other Italian Dario Paletto, Frenchman Olivier Baharian, and British driver Dan Norris-Jones.
It was an excellent result, expecially considering GDL Racing car spent much time during the first pit-stop because of a door problem and moved back to 25th. Then it broke its suspension after a crash with an other car and lost more 25 minutes.
During the night the GDL Racing car came back to 15th and then finished 12th. "I want to say thank you to all the team" – said De Lorenzi – "and the drivers. They didn't make any mistake and were awarded with this result."
It was a very promising start of the year for GDL Racing, that is now ready for 2013 season in the most important GT championships.
LA GDL RACING SFIORA LA TOP TEN ALLA 24 ORE DI DUBAI
12° POSTO ASSOLUTO PER LA MERCEDES SLS GT3 PORTATA IN GARA DALL'EQUIPAGGIO COMPOSTO DA DE LORENZI, PALETTO, BAHARIAN E NORRIS-JONES
Dubai (EAU), 13 gennaio 2013 – Ancora un risultato di rilievo per la GDL Racing nella prestigiosa 24 Ore di Dubai in cui nel 2011 aveva già conquistato un'importante affermazione di classe. Il team ravennate, che per il quinto anno consecutivo prendeva parte alla long-endurance degli Emirati Arabi che si è disputata venerdì e sabato, è infatti riuscito a collocarsi nelle posizioni di testa, sfiorando la top­ten e portando a casa il 12° piazzamento assoluto (su un totale di 80 equipaggi al via) ed il settimo della classe A6 Pro con la Mercedes SLS GT3 al cui volante si sono alternati l'esperto pilota-­-team manager Gianluca De Lorenzi, l'altro italiano Dario Paletto, il francese Olivier Baharian ed il britannico Dan Norris-Jones.
Un risultato considerevole, considerando che nelle fasi iniziali la vettura di Stoccarda nei colori della GDL Racing aveva immediatamente recuperato due posizioni risalendo decima, ma che nel corso del pit-stop iniziale aveva perso parecchio tempo ai box per un problema alla portiera che, nonostante sia stato risolto velocemente dai ragazzi del team, l'ha fatta precipitare 25ª. Tra gli inconvenienti, da annoverare c'è anche la rottura di una sospensione, per un contatto causato da un altro equipaggio, che si è tradotto in un'ulteriore perdita di tempo (per la riparazione è stata infatti necessaria una sosta di circa 25').
A questo punto, una straordinaria rimonta nell'arco della notte ha consentito alla Mercedes SLS GT3 della squadra ravennate di riportarsi intorno alla 15ª posizione, tagliando poi il traguardo al 12° posto. «Merito di tutto il team, – afferma De Lorenzi – che era alla sua quinta 24 Ore di Dubai e che conosce ormai ogni difficoltà legata a questa gara. Merito anche dei piloti che non hanno commesso un solo errore, rimanendo quando necessario fuori dai guai. Ho diviso il volante con tre gentleman-­-driver che hanno pienamente meritato questo risultato».
Il 2013 è pertanto iniziato sotto un'ottima stella per la GDL Racing, pronta ad affrontare l'impegno nei maggiori campionati GT di livello internazionale.