- Priocept at the Royal College of Art
Founded in 1837 and situated upon the banks of Battersea, the Royal College of Art (RCA) is a public research university specialising in art and design.
Over the years, seeing notable alumni such as David Hockney, Henry Moore and James Dyson pass through its doors, the RCA has gained an international reputation for innovation and research excellence.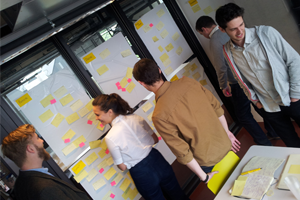 A few weeks ago, however, the RCA Dyson Building became the idea incubator for a more humble marketing event, co-led by Priocept and Mental.
Employing the talented and very active minds of students from both Queen Mary (University of London) and Goldsmiths University (who are all studying 'Innovation & Design', run by Professor Ohtani), Priocept and Mental set about creating a marketing campaign targeted towards highlighting the current complexities of the technological industry.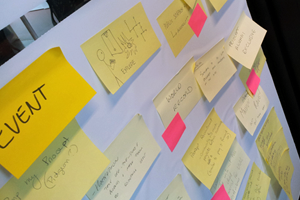 After Priocept had given a short introduction, Mental laid the foundation for our brainstorming session and sent us on our way.
Needless to say, within approximately
12 seconds there were Post-It notes everywhere, and ideas where being generated like wildfire.
Much of the afternoon was spent debating the pros and cons of each, until 10 ideas had been taken forward and were fully-formed.
Priocept and Mental will now be working closely to take one (or many) of these ideas forward, and create a marketing campaign that is as innovative as it is memorable in order to create greater brand awareness within our industry.
Watch this space!