Introduction
After the problems that the Priocept Racing team and Dan Norris-Jones faced at Knockhill, it was time for the Ginetta Supercup to take on the Rockingham circuit in Corby for rounds 21 and 22 of the championship. Only two races were scheduled which meant that Qualifying was the only outing planned on the Saturday, where Priocept Racing and Dan Norris-Jones qualified in 12th place by setting a lap time of 1:24:490.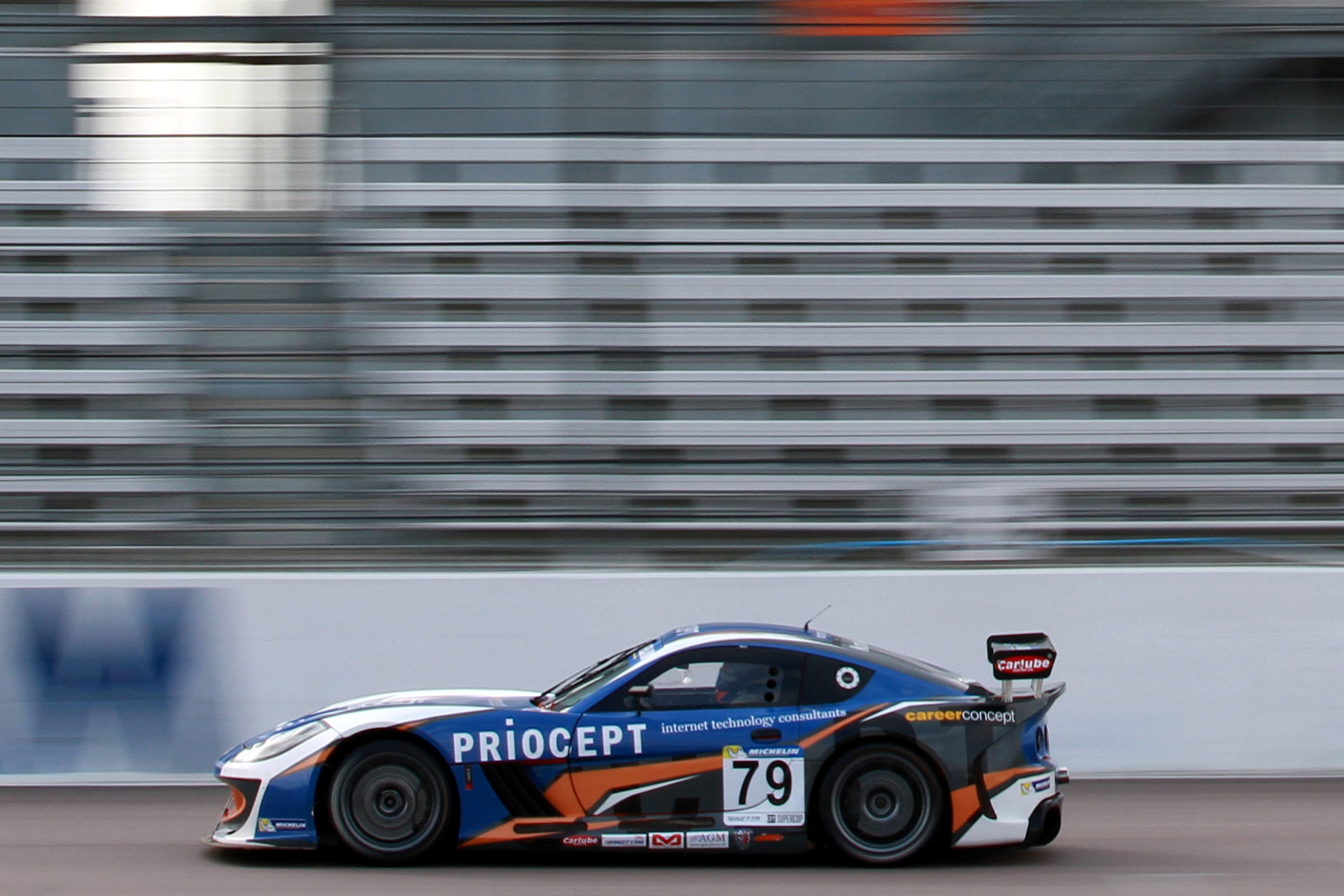 Race One
Sunday brought along two 18 lap races. The first of the two races started well for Norris-Jones who gained a place off the start line which he managed to hold onto. During the race two competitors had to retire with damage and mechanical problems and Dan took full advantage of this by moving up into 10th place, which was his final finishing position. Luckily race one didn't bring any damage to the car so all that was left to do between races was prepare the car for round 22 later on in the afternoon.
Race Two
Race two of the weekend didn't start as the team would have hoped, when after what looked like another blistering start from Dan actually turned into a nightmare as he was hit and spun off the track by another driver on the first lap of the race. This pushed him down to the back of the field, leaving a large gap to the next backmarker by the time he managed to get the car going again.
Pushing hard, Dan was doing his best to catch up with the field, only to be notified that he was creeping on the start and had been awarded a drive through penalty. As the team on the pit wall tried to get the message across to Dan, the safety car was scrambled due to another car becoming stranded on circuit. The drive through penalty couldn't be taken during the safety car period so Dan had to wait to take the penalty, but fortunately the safety car backed-up the rest of the field which meant that Dan could catch up after having spun on the first lap.
After the safety car period had ended Dan was able to take his drive through penalty, which pushed him further back from the field once more and despite pushing hard Dan was unable to make much of an impact chasing down the car in front due to the engine overheating, caused by grass in the radiator from the earlier spin. Another competitor had a mechanical problem late on in the race and Dan eventually finished the race in 12th place.
Next Race
Next up for Priocept Racing and the Ginetta Supercup is the Silverstone National circuit for rounds 23 and 24 of the championship. Be sure to follow @PrioceptRacing on Twitter for live updates throughout the race weekend.