- Luxury Watch Brand Uniform Wares goes global with help from Priocept and Collective
Uniform Wares, the luxury British watchmaker, has launched a new global e-commerce platform, implemented by Priocept and Collective London.
After four years building a devoted customer base and gaining critical acclaim for precise, minimalist watches, Uniform Wares evolved into a luxury brand and restructured operations accordingly, with design and assembly continuing in London but manufacture moving to Switzerland.
The brand needed to account for these changes by developing a new website to communicate its luxury brand credentials, plus an e-commerce and order management system capable of spanning international markets.
Because Uniform Wares does not have dedicated stores, the website design mimics the in-store watch buying experience by allowing customers to pour over every detail and facet of each watch.
To ensure the site functioned as well as it looked, Priocept built the uniformwares.com site using the Demandware e-commerce platform.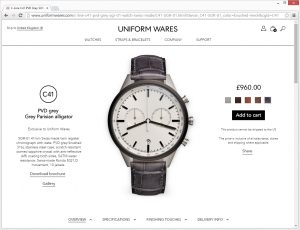 Demandware is an e-commerce cloud platform that allows businesses to develop multichannel retail operations. Uniform Ware's new website uses the Demandware platform to allow rapid scaling up, when required, to meet increased traffic and sales.
The platform, which is used by the some of the world's largest retailers, was chosen by Priocept after a comprehensive vendor selection process and Uniform Ware's use is one of the first cases of a niche luxury brand investing in an enterprise cloud based e-commerce system.
Priocept and Collective were appointed in partnership by Uniform Wares in May 2014 following a competitive agency selection process. Development of the new site was completed within just six months.
Collective and Priocept have worked tirelessly to deliver a site and e-commerce platform that is beautifully crafted but also thoroughly robust. Without their input, we would not be able to confidently extend our brand into more overseas markets.
We're proud to be able to give such a strong British brand a global presence. By developing a new website for Uniform Wares based on the continually evolving Demandware platform, we have created an efficient, user-friendly and future-proof online business that is free from the limitations that often come with other e-commerce solutions.
Uniform Wares is a fantastic brand to design for because it has such strong aesthetic values. The new website reflects these values whilst also recreating online the incredibly personal and immersive experiences of physically shopping for a luxury item.
Priocept and Collective continue to work with Uniform Wares on new features which will be added to the site in 2015.