Dan Norris-Jones, Managing Director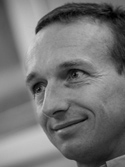 Dan founded Priocept in 2004, with the objective of helping clients to deliver internet technology projects while bringing an innovative, agency-style approach to IT consulting. He continues to manage overall business operations within Priocept, while working closely with clients in an advisory and consulting role.
Dan was previously one of four founders of AKQA, a London based web agency that grew to become a global interactive marketing agency, with offices in London, San Francisco, Washington DC and Singapore. Dan served at AKQA in various roles that included Chief Technical Officer, Managing Director of the UK office, and member of the board of directors of AKQA Inc., the San Francisco based parent company.