Introduction
Magnolia is a powerful, enterprise-class Content Management System (CMS) that has strong capabilities for delivering international websites that present content in multiple languages. All content in Magnolia is fully translatable into any language.  In this blog article we have a look at some of the options available for applying translations in Magnolia.
Translation Creation in Magnolia
As the screenshot below shows, adding a translation to any content section is easily achieved in Magnolia using the language selector. Content can then be previewed in each language to ensure the page layout remains consistent.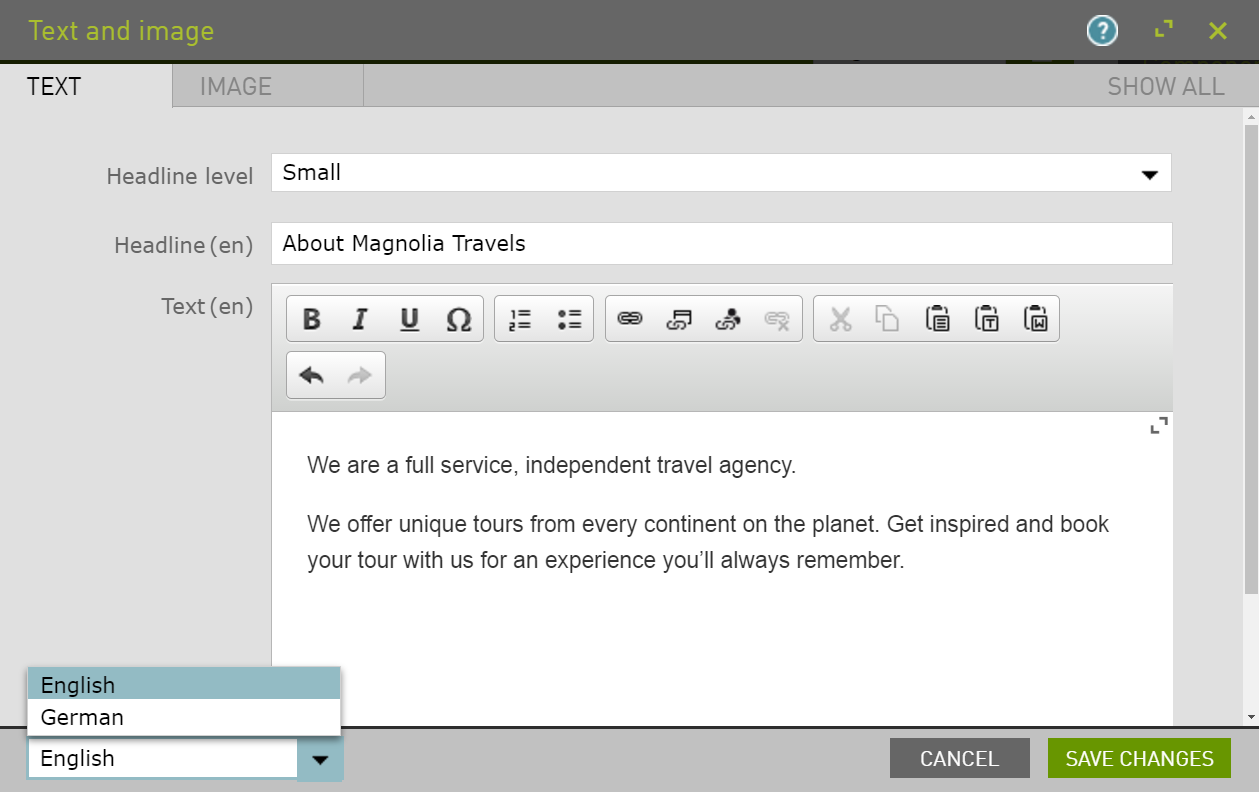 Translations can be applied to page content, images, documents, and even metadata.
Automated Translations
For large, multi-national sites, translating content manually is an inefficient way to build site content. Magnolia has built-in modules to support the process of automating content translations, which are summarised below.
Content Translation Support Module
There are a plethora of translation services available on the market today such as Clay Tablet, Translations.com and Smartling. Magnolia supports integration with any of these services by making all content easily exportable in formats that are supported by third-party translation services, such as EXIF, CSV, and XLS. Once translation files are received, these can then be imported back into Magnolia, eliminating the need for rekeying information and potentially introducing errors.
Translations.com Module
Using the Content Translation Support Module requires a content editor to export content, send it to a translation service, and then re-import the translated output when it's ready. This is a manual process that can become onerous when dealing with large websites.
To overcome this problem, Magnolia has recently released the Translations.com module. Translations.com is a leading online translation service. Installing the Translations.com module adds an integrated Magnolia action to allow content editors to trigger a translation request for content, without leaving the Magnolia user interface.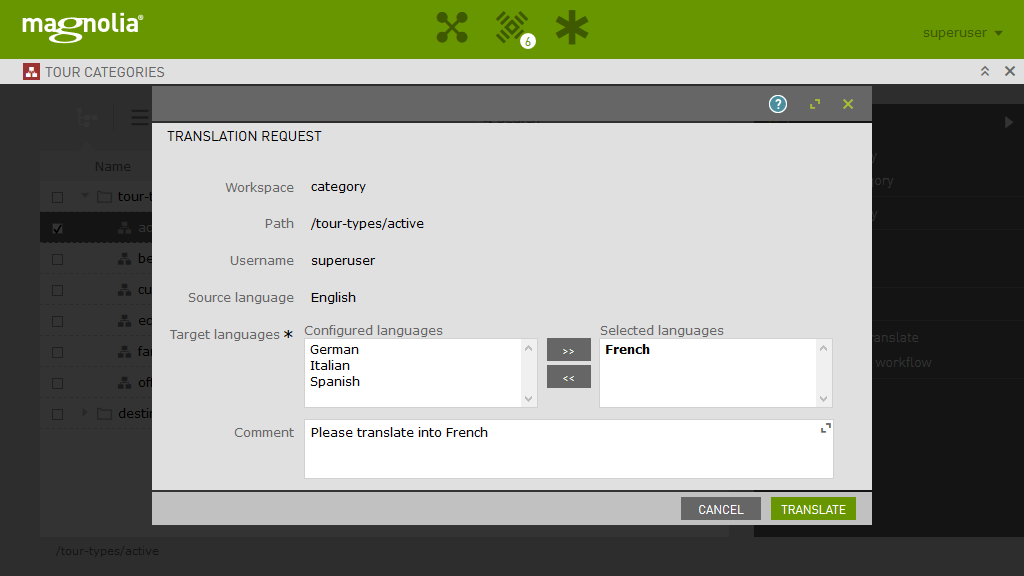 A translation request will trigger a workflow to first send the content to Translations.com, and then periodically check the status of the translation.  Once the translation is ready a separate workflow process is triggered to allow content editors to approve the output from Translations.com for import into the site.
This module seamlessly integrates Translations.com services into Magnolia. It systematises and automates the translation process, whilst giving content editors quality control over translated content.
Auto Translation Module
Translation services can be a costly way to generate local language content. An alternative is to use Magnolia's auto-translation module. This provides machine translations by connecting to Google Translate and Microsoft Translator.
Unlike translation services that use bi-lingual humans to complete translations, these translations rely entirely on computers which do not always provide perfect translations. In Priocept's experience the meaning of a sentence is usually discernible, but minor incorrect nuances are often present. A manual check is therefore recommended as a fully automated translation can't yet replace the accuracy of human involvement.   The automated translation service is, however, a useful initial process for fleshing out a draft translation of a site, prior to engaging human translation.
Translating the CMS
One other nice translation feature to note is that the Magnolia user interface is itself completely translatable into any language. For organisations with a global presence this is a powerful feature to allow local content editors to manage their websites effectively.
Conclusion
Magnolia is a powerful and fully-featured CMS appropriate for global websites with multi-lingual and localisation requirements. Translation capabilities are supported out-of-the-box and various modules are available to seamlessly integrate third-party translation services.
Priocept advises many of Magnolia's flagship global clients on how to apply translation strategies, including Avis, Generali, and Virgin Holidays. For more information on how Magnolia can support your multi-lingual requirements, please get in touch.