In June 2011, Priocept gave two presentations at Sitecore's DreamcoreEU 2011 event in London. We spoke about the multilingual ecommerce Sitecore website we built for Virgin Mobile in Qatar in the Middle East. Here are the videos from the two sessions: one focused on the business case and user experience, and the second covers the more technical aspects of the project.

We also gave an interview about our experience of Sitecore as a Sitecore Partner. Other videos of the sessions at DreamcoreEU 2011 are also online here.
Business Track – Virgin Mobile (Qtel): Business strategy for an enterprise going global with Sitecore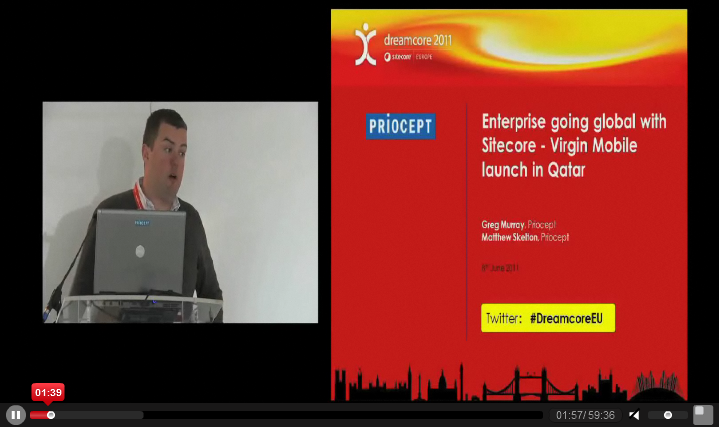 Presenters:
Greg Murray, Managing Director – Priocept
Matthew Skelton, Principal Consultant – Priocept
Agenda:
Project Background

New market with strong branding / experience focus

Requirements

Rapid turnaround (due to challenging timescales)
First-class user experience for both end-users and content editors

Solution Delivered

Start to launch in 6 months
Sitecore key to ease of development

Challenges / Lessons Learnt

Do not "internationalise" – build in multilingual and RTL support from the start
Understand local market differences

Future Developments

Sitecore lends itself well to supporting a "services" approach
(60 mins)
Technical Track – Virgin Mobile (Qtel): Technical Strategy & Implementation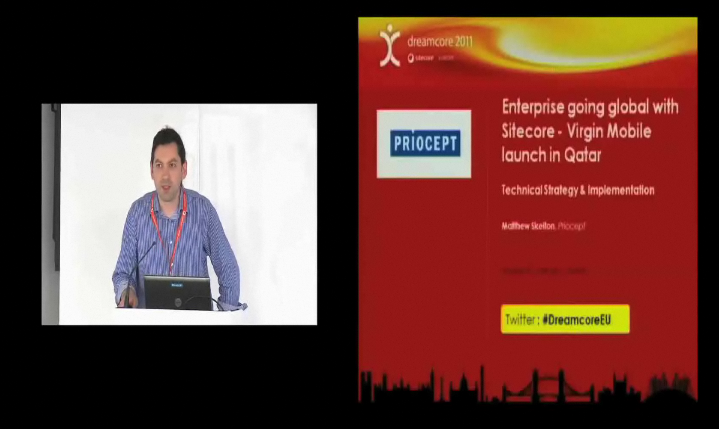 Presenter:
Matthew Skelton, Principal Consultant – Priocept
Agenda:
Using Sitecore for multi-lingual and LTR/RTL websites

Side-by-side editing, versions, template and renderings

Flexible content modelling and product management with Sitecore

No need for separate PIM in many cases. Custom edit UIs possible.

Content curation using Sitecore

Package Designer, Publishing Viewer, Broken Links report, API

Developing, testing and operating multi-server Sitecore installations

Implications of international applications on:

Text & rich media, UI & UX, development process

Full-stack testing with a range of tools
Work with Ops to achieve optimal Production environment
Write a System Operation Manual – prove how your system works

Plan for interesting challenges in the Production environment!
(54 mins)